[ad_1]

Auto Sector has put up a stellar show to emerge as the top-performing sector this year. Between January 1, 2022 and August 5, 2022, the Nifty Auto index has clocked 17% return so far this year so far.  It was followed by Nifty FMCG, which gained over 14% during the same period. Benchmarks Nifty50 and Sensex remained flat with less than one per cent return in the duration under comparison. The auto index comprises a list of 15 stocks, including Maruti Suzuki, Tata Motors, Bajaj Auto, TVS Motor, Escorts etc.Sunil Damania, Chief Investment Officer, MarketsMojo, decodes what helped struggling auto sector and future of auto companies here.
Auto Sector: Will It Continue to Perform?
The auto industry is the best-performing sector in 2022. This is in stark contrast with the last five years when auto companies struggled to earn investors' attention.
So, the question is, what changed that auto companies are back in demand? Do they continue to offer scope for capital appreciation from the present level?
But before we try to suggest what could be the future of auto companies, let us try to understand why they have underperformed in the last five years?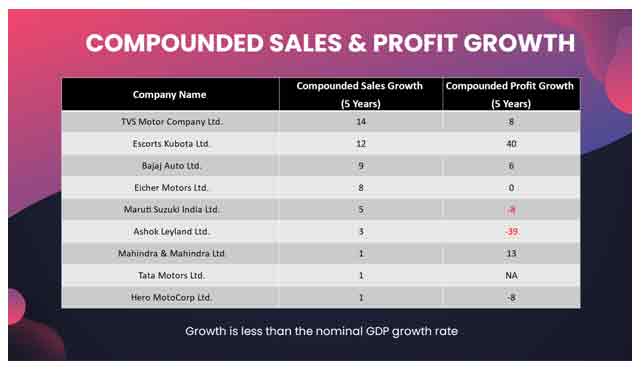 In the last five years, investors have been chasing the growth story. They were willing to pay a higher premium for companies or sectors reporting growth. Auto companies, on the other hand, were in the slow lane delivering poor growth. Most auto companies reported single-digit topline growth, which was less than the nominal GDP growth rate. There were reasons for the same.
The government introduced guidelines in 2019 that every car must have ABS, driver-side airbag, speed warning alarm, seat belt alarm and so on. For two-wheelers, ABS was compulsory for engines above 125 CC and CBS for front and rear brakes with engines less than 125 cc.
The insurance cost also went up, increasing the cost of ownership.
Pandemic-led lockdown led to less demand for vehicles due to work from home and no travelling. 
Increasing raw material prices like steel, aluminum, rhodium, palladium, etc., coupled with supply-side uncertainties, impeded operational activities for auto companies.
Chip shortage added another factor to curtail production. 
But Things Changed, And Investors Loved It 
But off late raw material costs have started to drop substantially. Most metal commodities prices have started easing. Crude oil prices have also begun to decrease as this brings down the running cost of running vehicles. At the same time, despite India being in the third Covid wave, it did not impose strict restrictions, which helped auto dealers keep their shops open, helping auto sales. Travel resumed, as did schools and colleges, further boosting commercial vehicle demand.
EVs: The Future
Total EV sales in the country in FY2022 were 4.3 lakhs, most of which were accounted for by two- and three-wheelers. Within 4-wheelers, only 16000 have sold so far. Tata Motors, the largest EV player, still has very low volumes. On the other hand, within the 2-wheeler EV space, there is no listed player among the top 5 manufacturers. Therefore, the listed players are still not dominant players in this space.
Can The Auto Sector Continue to Lead the Rally?
While the sector did get help from easing supply chain issues and pent-up demand, the situation does not look rosy across the industry.
SUV to Move from Sellers' Market to Buyers' Market
Everyone in the car segment wants to have a larger chunk of the SUV pie which now accounts for 40% of the passenger vehicle segment. This space will quickly overcrowd due to new launches and upgrades. Pent-up demand will reduce as we advance. Stiffer competition would mean more models chasing the same customers. I feel that the SUV segment, currently a sellers' market (higher-wait period), would turn into a buyers' market.
No Clearly Defined EV Strategy 
Many listed players do not seem to have a proper EV strategy. Also, EVs as a sector are still evolving in terms of technology. Therefore, there is a high probability that IC engine leaders may not be leaders in the EV segment. This could create a lot of headwinds for the incumbent-listed players. As a result, the market will give a higher premium to those companies that can move quickly from IC engines to EVs.
Have a Stock-Specific Approach
I believe the way to invest in the auto industry is to adopt a stock-specific approach. So, while the sector has done very well until now, it may not sustain the rally. One needs to take a stock-specific approach. Wrong selection could impact your profitability severely. Remember, each company within the auto space has different business dynamics. What holds good for the EVs may not be suitable for cars and what works for motorcycles may not apply to scooters. Hence, having a general auto-sector view may not help.
(Disclaimer: The views/suggestions/advice expressed here in this article are solely by investment experts. Zee Business suggests its readers to consult with their investment advisers before making any financial decision.)


[ad_2]

Source link