[ad_1]

Zee Business Stock, Trading Guide: Indian stock markets fell for the fourth straight session on Monday as rupee's plunge did not go down well with the domestic equities. The global cues were also negative with US markets closing negatively on Friday.
The BSE Sensex ended today ended at 57,145.22, down by 953.70 points or 1.64 per cent from the Friday closing level. Meanwhile, the 50-share Nifty50 index, settled at 17016.30, lower by 311 points or 1.8 per cent from the previous closing.
In the 30-share Sensex, 7 stocks were trading in the green at the closing time while the remaining 23 were in the red. In the 50-share Nifty50, 9 shares advanced while 41 declined.
Of the 15 sectoral indices, Nifty IT was the one gainer while Nifty Bank (-2.35 per cent), Nifty Auto (-3.81), Nifty Metal (-4.13 per cent), Nifty PSU Bank (-3.69 per cent) and Nifty Realty (-4.25 per cent) among the worst losers. The broader markets also witnessed bloodbath with Nifty Mid Cap 50, Nifty Mid Cap 100, Nifty Small Cap 100 ending in the red.
Here is a list of triggers that investors must watch out when markets reopen on Tuesday, 27 September.
1) Rupee Vs Dollar: Rupee has dropped nearly 10 per cent in 2022 against the US Dollar. Since the announcement of the interest rate hike by the US Federal Reserve, it has seen a sharp decline against the green back. On Monday, the INR ended at a record low against the US dollar for the third straight session on Monday on risk-averse sentiments and unprecedented strength in the greenback following Fed tightening and recession worries. It closed 63 paise down, at 81.62, against the USD, IANS reported. It had closed at 80.99 on the previous trading session.
2) Dollar Index (DXY) breached the 114 mark today. The dollar index is trading at two-decade highs and making new peaks on daily basis.
3) Foreign Institutional Investors (FIIs) were net sellers of the Indian equities and sold shares worth Rs 5101 cr while the Domestic Institutional Investors (DIIs) bought shares worth Rs 3532.18.
4) US Markets: US markets were trading negatively at the time of filing of the story. Dow 30 was trading at 29,406.20, down by 184.21 points or 0.62 per cent. S&P 500 was trading at 3,676.50, down 16.73 points or 0.45 per cent. Nasdaq Composite was trading at 10,878.40, up 10.52 points or 0.10 per cent.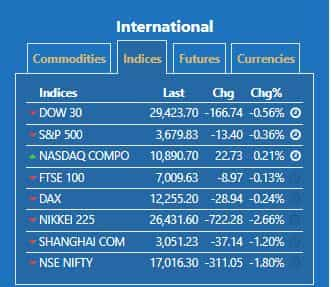 Source: Comex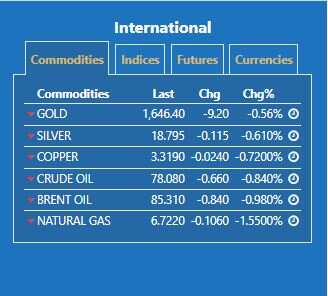 Source: Comex
 Source: Comex 
5) Securities in Ban For Trade Date 27 September, 2022: Vodafone Idea, Punjab National Bank (PNB), Zee Entertainment Enterprises (ZEEL).
6) Monetary Policy announcements on Friday will also weigh on the markets where the Indian Central Bank is expected to increase repo rate by 50 bps.
7) This week is also F&O expiry week, which may impact markets.
8) The volatility index shot up by nearly 7 per cent to 21.89 from 20.59.
9) Market Expert Sudip Bandyopadhyay told Zee Business that markets are already in an oversold territory and buying on dips is still there in the domestic equities. His advice to investors is to remain vary of the movements. The  FII outlook is not favorable and once it is reversed, the reversal could be expected.
10) Anil Singhvi Trading Strategy: Nifty50 has support at 16800-16850 while resistance at 17300-17325. Bank Nifty has support at 38200-38325 while resistance at 38900 and 39100. #BazaarAajAurKal       


[ad_2]

Source link